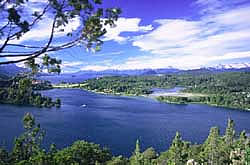 The Futaleufú starts in Argentina and so do we. We want you to get a real sense of the land, people and remoteness of wild Patagonia and feel this is the way to do it! The Futaleufú River flows to the Pacific through an extremely remote valley in Chile. The journey to the Futaleufé is definitely an integral part of your Patagonian adventure. We have chosen the Argentine ski resort town of San Carlos de Bariloche as your gateway into the expansive region known as "Patagonia". When you get off the plane in the new airport of Bariloche, look out over the vast open plains to east and see the jagged peaks of the Andean Cordillera to the west, you know that this can only be the famed Patagonia! Your first night in Bariloche you will stay at the luxurious lakefront Hotel Villa Huinid and have a chance to unwind from your trip half way around the world. The next morning we travel 380 km in a comfortable bus from Bariloche to the Fu with snacks, drinks and good music. Planes tend to insulate us from the smell, tastes, sights and sounds of the landscape. This is why we have chosen this leg of your travel to be overland.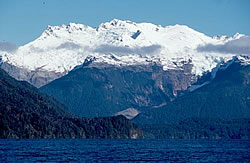 The travel time to our camp in Chile is approximately the same whether through Argentina or Chile (if you include waiting time in airports), yet, arriving via Bariloche you will see the landscape change from barren pampas to fertile valleys and finally turn into the Valdivian temperate rainforest of the Futaleufú. By traveling to Chile via Argentina you will experience two cultures that are quite different despite their proximity. A breathtaking drive through one of Argentina's most beautiful national parks with time to stop and take pictures is a natural way to "slow down" and smell the roses. You will really enjoy this journey! As always, we are happy to arrange extensions to Chiles famous national park, Torres del Paine or the Fitzroy Spires in Argentina either before or after your trip.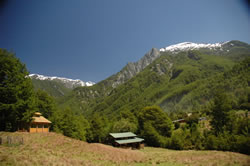 Day One: Arrive in Buenos Aires, Argentina for your flight connection to San Carlos de Bariloche. A Bio Bio Expeditions representative will meet you at the Bariloche airport and escort you to the "Switzerland of the South" that lies on Lake Nahuel Huapi. Check into a lovely hotel with lake views located within walking distance of town. Your afternoon can be spent swimming, walking around town, shopping for Argentina's famous leather goods, sampling Bariloche's delicious chocolate or going for a walk along the lakefront. There is also an option to go for a longer hike near Bariloche's ski resort. In the evening we will gather for a group welcome dinner at one of our favorite restaurants where you can indulge in an Argentinean steak off the parilla. * Please note that we are happy to arrange an extension to Buenos Aires either before or after the trip dates – don't miss your chance to spend an extra day or two to explore Buenos Aires, the "Paris of South America" – one of the world's most exciting and enticing cities.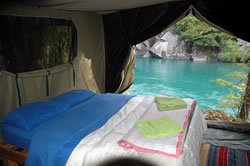 Day Two: After breakfast we will board our private vehicles and begin the drive south to the Futaleufú as it flows into Chile. This is a beautiful drive down the east side of the Andes and is nothing short of breath taking! We will drive through the frontier gaucho towns of Esquel and Trevelin that were settled a century ago by Welsh farmers. This region of Patagonia was made famous by Butch Cassidy and the Sundance Kid! The terrain alternates between lush forest and emerald green valleys, aquamarine lakes, and the windswept plains of the Patagonian steppe. In the afternoon we will reach the remote, rugged outpost that serves as the border between Argentina and Chile where you will get another stamp in your passport as we enter Chile. The dry, rugged scenery of the Andean rain shadow quickly gives way to lush, green temperate rainforest as we get our first glimpse of the Futaleufú River and then follow it downstream to our multi sport Adventure Base Camp. On the way to camp, we pass a few farms that are carved into the ancient rain forest allowing us a glimpse of frontier living, Chileno style. Finally, we arrive at base camp where your private tent bungalow on a raised platform, complete with river views and comfortable beds, will be waiting for you. Our enthusiastic guides will lead you to your sweet new "home away from home" on the river!
After a short hike or a swim, you may want to soak in the riverside hot tub or enjoy a hot shower. Then, we gather in the sunset bar for our first welcome happy hour. We will introduce the entire crew and go over the week's agenda. After happy hour, a hearty dinner will be served. It does tend to cool down quite a bit when the sun sets below the peaks so we dress warmly in the evenings.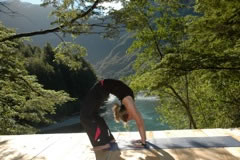 Day Three: Awaken on the banks of the Fu and enjoy your first morning in camp! We rise with the warmth of the sun and have breakfast around 9 am. A pre-breakfast yoga class is available on our customized yoga platform with river views! Mornings tend to be crisp and dewy so prepare to dress warmly - a fleece is perfect. Today is a river day. We will launch our rafts from base camp after a thorough safety briefing. In a safe 'eddy', a short distance downstream, we'll do a set of practice rescue drills. This allows the crew in each raft to hone their skills and prepare to raft as a team.
We use a cataraft combined with ace safety-kayakers as part of our "safety net." Each raft is captained by a highly trained and intuitive river guide, who guides the boat from a stern-mounted oar frame. Guiding with oars does not detract from the paddling experience. The advantage to the oar frame is greater control in pointing the bow straight through bus size holes and 15-foot high "haystack" wave trains. High siding is also an actively used "paddle" command. This style is consistent with any high volume, strong current river where rapids graded 4 to 5-plus rage on. This is the Futaleufú!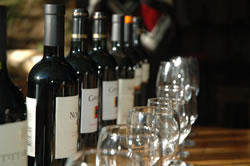 At take-out, we meet our vehicles for a 20-minute ride back to camp. Those who would prefer a "lower body" workout to complement their paddling are welcome to run back or ride one of our mountain bikes from take-out to camp. When we get to camp, you can choose to go fly-fishing, try out a kayak, practice yoga, nap in a hammock, enjoy the sauna, have a massage, go for a hike, or soak in the hot tub. Taking a hot shower, either indoors or under the big sky, feels very luxurious while camping in the remote wilderness of northern Patagonia! Of course, for the hardy, the river provides a cold bath and refreshing swim.
As the sun sinks behind the mountains, enjoy a game of chess or cards at the sunset bar. Every late afternoon is "Happy Hour" with an open bar stocked with beer, wine, soda, and fresh juice. Then, we gather together in the open-air kitchen/dining area, the "Galpon", for a candlelight sit-down dinner featuring fresh locally grown produce and fresh-baked breads. After dinner, enjoy the campfire and the stars before retiring to your cozy tent on your private platform. The sound of the river will lull you to sleep and send you off dreaming of the next day of adventure in Chile.
Day Four: Officially day two of our rafting extravaganza. Our aim is to settle into a river rhythm that will be utilized in order to successfully raft the next few sections the Fu. After breakfast, we will launch our rafts from camp and have lunch on the river. After we pass the Puente Futaleufú (yesterday's take-out), we immediately round the corner to meet a big stomping continuous cascade of waves known as "Mas o Menos", translated, "More or Less". This is a good stepping-stone towards our first true blue class V technical rapid, "Casa de Piedra" (House of Rock) which is right around the next corner. We will get out of our rafts to scout this massive boulder choked rapid from the banks of the Fu. It is formed like a series of water wheels that channel all of their fury into a final churning pit with a dragon's back highway through it; that is, if you hit it on line.
After this rapid, we will run the remaining class 3 and 4 rapids as our hearts resume beating at their normal rates. We will drift into a nice long calm section that offers perfect fishing from the rafts as well as a great place to get into some hard shell kayaks. The next three miles we will have a floating happy hour and reach our take out spot just above Lago Yelcho. Upon return to camp, we will continue to celebrate the day, enjoy the spa and get ready for another fabulous dinner prepared by our jovial crew and talented chef.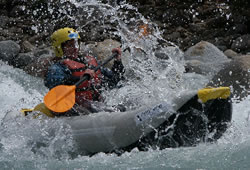 Day Five: Today we become experts at navigating our very own river crafts, known inflatable kayaks or IK's. We venture up canyon to the source of the Rio Espolón as it cascades out of the Lago Espolón to find gin clear water and gentle class 2 and 3 rapids that offer a perfect learning opportunity to become a great captain of your own boat.
If there is interest, before we paddle we will have a chance to stroll around the quaint little town of Futaleufú There is something deeply satisfying paddling your own boat down river, knowing that your destiny is in your own hands. Of course our highly trained guides will be there to coach you, watch over you and provide safety should you need to be rescued. The Rio Espolon is one of the major tributaries to the Futaleufú river and flows into the Fu right above the Inferno canyon which is where we take-out in the early afternoon. For those ready to try out a hard shell kayak, this is the perfect class 2-3 river to do it on!
Day Six: Surf and Turf up and down the Rio Azul valley! After breakfast we take a short drive to the stables where we will find our trusty steeds saddled up and ready for adventurous riding. After a safety briefing, we ride alongside some local expert equestrians and our own river guides who will gladly join the posse up a glorious, pristine side valley where the Rio Azul flows unhindered from its glacial headwaters. After a 3 hour ride, we stop for a picnic lunch and then trade in our saddles for paddles to test our talents on the challenging and fun Class 3 and 4 Rio Azul, a significant step up in difficulty from the Rio Espolón. This is a full bi-athlon day and you will be glad to return to camp, enjoy the soothing hot tub, a cold beer or glass of wine as you wait your turn to get a well deserved massage!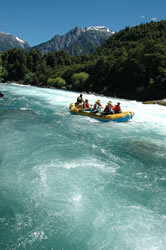 Day Seven: We will have an early breakfast in camp then travel 25 kilometers up the road to Rio Espolón to launch our rafts for the Inferno Canyon day!
On the Rio Espolón we have a chance to warm up on this low volume river before it joins and helps form the mighty Futaleufú as it gets squeezed into the narrow Inferno canyon. This upper canyon requires aggressive class V paddling and is potentially the most intense section of white water on the river. Several options exist for those who choose to not participate in the Inferno Canyon descent.
Five distinct rapids form a narrow sinuous river passage creating a wet surge and a "full on" adrenaline rush. The fourth rapid was until recently the smallest of the 5, but due to road building debris landing in the river, has now become nearly impassable at most water levels and requires a walk around and "lining" the rafts through it. As we come out of "Exit", the last rapid, we enter into a long calm. The current remains swift and we cruise many miles downstream arriving at the mandatory portage around the fierce "Zeta" rapid. We have lunch on the rocks as the crew "ghost" boats the rafts through this treacherous rapid.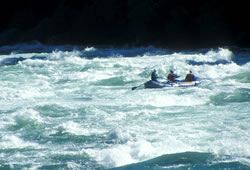 After lunch, our first obstacle is "Throne Room," a class V+ rapid for kayaks, a ghost boat rapid for rafts. By walking around this rapid, we get a great bird's eye view of an almost 'river wide' hole that could destroy a raft. Back on board our rafts, we are dealt a Royal Flush; a continuous class IV corridor of rapids does not let up until we get to our take-out spot at the Rio Azul footbridge. The rafts are left for the night, tethered on shore.
Early evening is spent in camp getting ready for the evening festivities. Blanca and her partner Umberto, locals from a nearby farm, prepare a very special treat for us. They merrily prepare a delicious dinner called "Curanto" that is typical of the south of Chile and the island of Chiloe. We spend the evening by the bonfire on the beach singing and dancing the night away.
Day Eight: Today, we must be mentally and physically well prepared for the river. We call it the "summit day" as we aim to top our already great paddling days with the best day of white water in the world. After a nutritious breakfast, we head up river to the footbridge where we left the rafts yesterday. As our day on the river begins, the blue glacial run-off from the Rio Azul River merges into the Fu from the right. The views of the snow capped mountain peaks and jagged ridges of the mountain "Las Tres Monjas" (translated, "the three Nuns") are absolutely breathtaking. A six-kilometer stretch of warm-up rapids leads us to the longest and toughest rapid that we will raft, "The Terminator." We scout and study our line, then we take the plunge and drop in. "Left turn, right turn, dig it in — hard forward!" are a few of the commands that might be heard. The next three miles are non-stop rapids. After an aerobic workout, we pump through the enormous haystack wave train known as the "Himalayas". Just when we need it, a calm returns, we float gently into lunch, served at our base camp.
After lunch, we return to the river to complete the last task for the day, tackling as much white water as possible. We raft the whole section of river from camp to below Casa de Piedra. At take-out, cold beers and tea are waiting. We make a triumphant return to camp to celebrate our days spent exploring Futaleufú valley and river.
For the evening's festivities, Rolando and Nelli will prepare a typical Chilean Asado — lamb roasted over a bed of coals, ensalada, potatoes and farm fresh bread. We toast the river and give thanks for our safe passage. Under a bright starry sky, we will spend our last night together as a group on the banks of the mighty Fu with the guides and crew.
Day Nine: An early start gets us out of bed. After loading up your personal gear, our van will take you to Esquel or Bariloche to catch your flight to Buenos Aires. We recommend spending the night in Buenos Aires (or Bariloche) as the afternoon/evening flights from Bariloche or Esquel can be delayed due to weather and lends to a hurried transfer, or a missed connection.Here you can enjoy a tango show and have a fun night out on the town! We hope when you board the airplane you will look back upon your time in Patagonia and the friends you have made and think of the beauty of the Futaleufú River and the Patagonian wilderness. With a bittersweet farewell, you say Ciao Futaleufú, Ciao Ciao Chile and land of Ché!